Reflections of 2019
Posted on
As 2019 draws to a close I reflect back on the year. And what a year it has been.
2018 was diagnosed with stage 2 invasive breast cancer. I hoped 2018 would be the end of tests, scans, biopsies, surgery, more scans, chemotherapy, radiation, etc....but it dragged well into 2019 as my wish for the other breast to be removed wasn't granted. I was still on blood thinners for the DVT chemo gave me, so no chance until that was done. May 2019 I had my wish, right mastectomy. Looking back I realize I was very fragile starting 2019, recovering physically and mentally. In 2018 I lost my way, I gave up my horsemanship business, I lost my independence, and income. The treatment for cancer in 2018 was so hard I lost my mind, went crazy, and visited the gates of hell. The devil couldn't have me as family, friends, Marley my Dalmatian and Kez our horse had got hold of my hand so tightly he couldn't pull me in. Marley never left my side, a dog's love is unconditional. Our horse Kez waited for me. They give me a reason to get up and on with the day.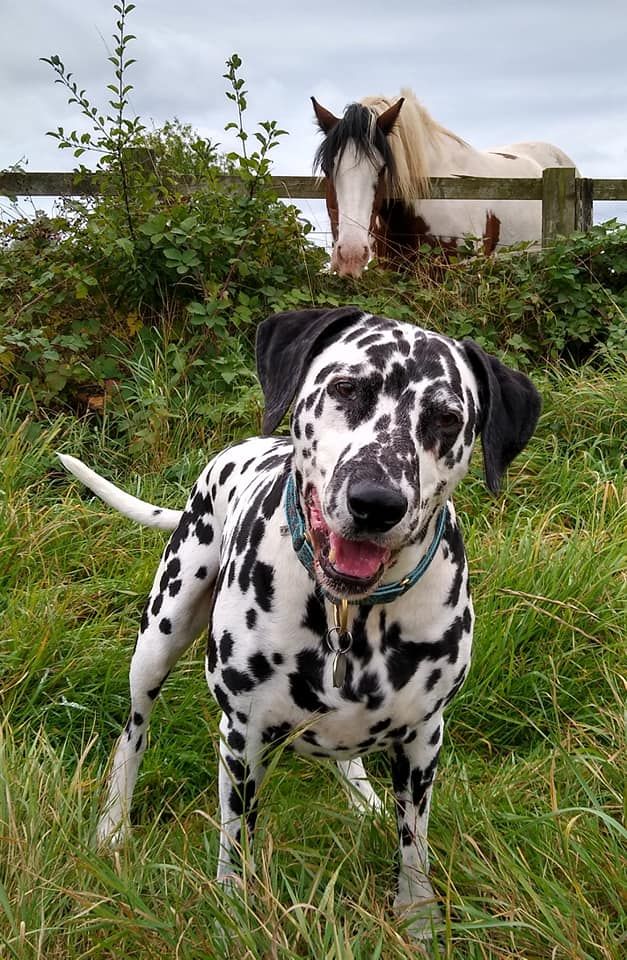 Cancer has filtered people out and into my life. A few people showed their true colours kicked me while I was down. Big mistake, as battling cancer has made me less tolerant to being treated badly. Amazing people stepped up and walked in when others fled. Thank you to my wonderful friends and family who has helped me. Thank will never be enough. And the list of thank you is very long. I am thankful for each and every one of my dear friends and value time catching up on life. True friends are the people who are there for you unconditionally. They can have 2 legs or 4. They never ridicule, put you down or pass cruel judgements. They support you no matter what the circumstances are. They often come into your life when you least expect it. They are what make life worth living. They are precious treasures.
Life is fragile. People are precious. Loved ones are to be treasured. I reflect back to my dear friend Sue who collapsed on the 23rd December 2018. She had a huge bleed on her brain and she never regained consciousness. Weeks she was on life support before it was turned off in January. I miss her so much.
Cancer showed me my inner demons. It showed me the dark places within. I was forced to fight, there was no choice but to pick up a weapon in my shaky fearful hand. Let me say it is exhausting. It's very hard and at times too much. The darkest days are when you fight the hardest. That fight maybe getting through the next five minutes and pushing away the way to make the pain stop. Others often cannot see or understand the inner battle and turmoil. So for my friends who are warriors you have a strength within, a fire within. On bad days the light is a tiny faint glow. The tears that fall are a sign it is still there. The ignition of that glow to a fire is your inner strength, courage and grit. Sometimes the faint glow is all I had. But it was still there. When that glow is gone the fight is gone. So I am thankful for my inner glow.
I have learnt a lot about myself, as cancer stripped me to bare bones. I realise I am work in progress. Maybe I always will be work in progress? Learning is lifelong. There have been many ups and downs in finding my new path. I tried to return to teaching horsemanship and physically it was too much. So at the crossroads I sat not sure which road to take. This along with learning my recovery is a haul. I have learnt I will never be pre cancer me. Cancer has forced me to spend time in transformation from old me (pre cancer) to new me. Just as a caterpillar goes into a chrysalis and breaks down its body to emerge as a butterfly. I have spent considerable time in my chrysalis. I have learnt much about myself, who I am, not who I am based on what I do. Cancer stripped me to the bare bones. I have been loved when I wasn't loveable. I have learnt I am fragile, and it's ok not to be ok. My body is still not recovered and maybe it's as good as it can be, wonky. My body has limitations, it is now weaker, and I am learning to live and manage lymphoedema. My mind is work in progress, my spirit has been honoured. Yes at times I could have ended it....but the darkest of days somewhere, somehow I got through. Sometimes dragged or pushed by those around me. Sometimes just a shared quiet kind knowing and a cup of coffee. Just as a caterpillar has different DNA to a butterfly maybe my emerging from the chrysalis I will have new wings and can fly? And how ironic as I have a butterfly tattoo.
The NHS staff are amazing, they are working in a broken system doing a first rate job. Mental health services have been obliterated by years of underfunding. It is totally broken. So I have learnt to help myself emotionally. And learnt to tap into spiritual healing, and thank a dear friend Sally Roberts for her wonderful spiritual healing. I have also invested in self-healing, giving myself reiki. I have tapped into my inner soul and my creativity to help heal myself. My art is great therapy and it reaches out into my spiritual realm. I have learnt how to tap into my reiki and creative side. My creative work is done spiritually with love, passion and soul. I am a Reiki practitioner and artist and all my work is done with Meraki.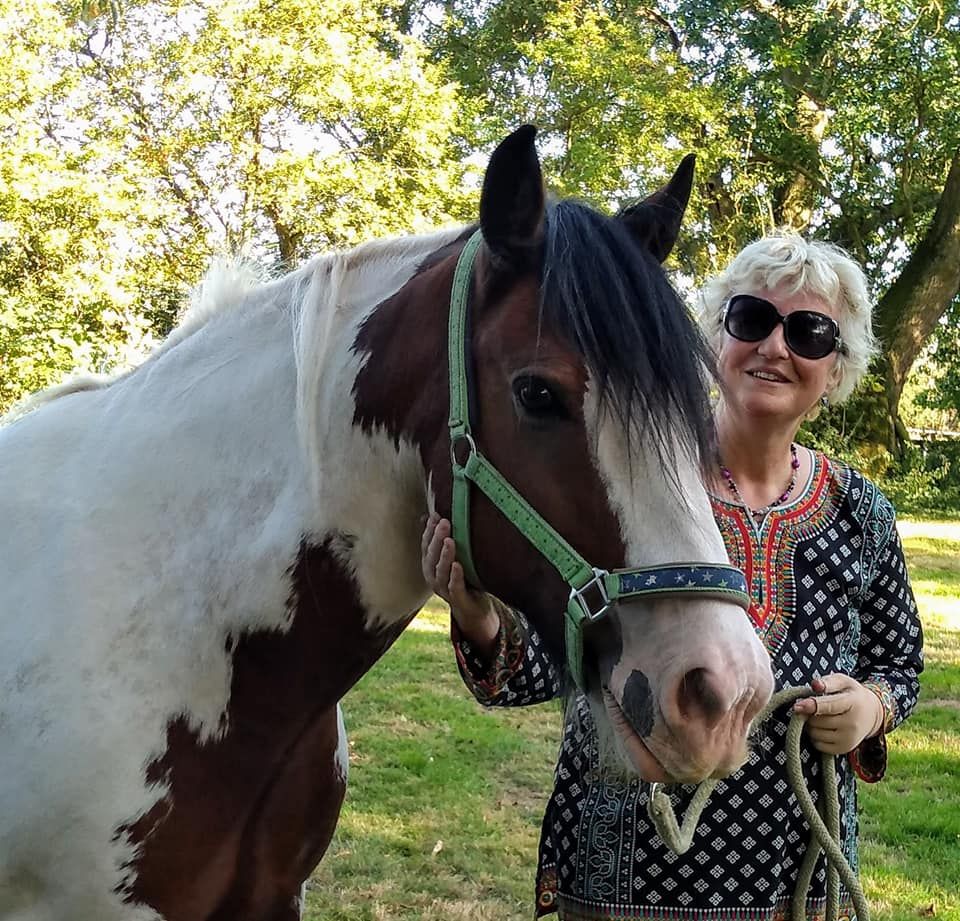 Our horse Kez is the reason we started the original Non Ridden Equine Facebook group and from that the not for profit Non Ridden Equine Association UK. During 2018 I was too poorly to do much for the Non Ridden Equine Association UK. However 2019 has seen many amazing achievements. This year as a collective of people who share a non ridden passion we raised enough money for the Non Ridden Equine Association UK to have a stand at Your Horse Live. So many people made this possible. I am blown away by the generosity of businesses that provided prizes for a raffle and the generosity of people who purchased raffle tickets. Having a stand at Your Horse Live was a truly amazing experience. Plenty of people stopped by our stand to chat. It is clear that in 2020 the Non Ridden Equine Association UK has plenty to do. So it looks like I will be giving some time to this project. (Please note all who input to the Non Ridden Equine Association UK are unpaid volunteers).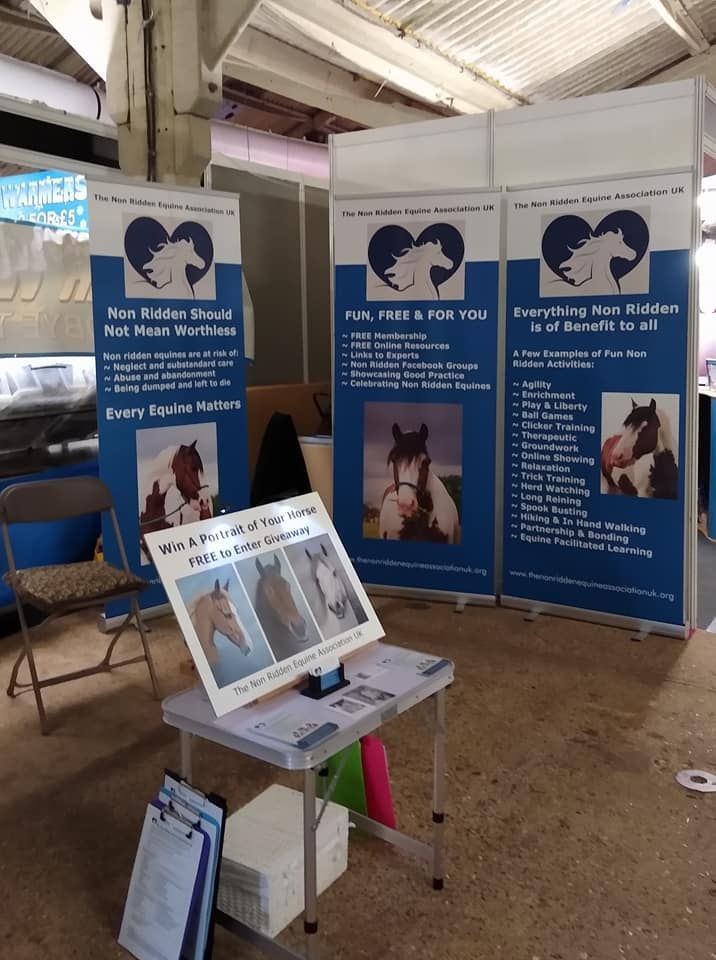 On a personal note the things I have achieved may to some seam small. For me they are huge. After cancer treatment and more surgery in 2019 I didn't have the strength or stamina to do things I used to be able to do. I have to be careful with lifting heavy things, and take great care not to get pulled or bashed. So for all of 2018 and the first half of 2019 doing any groundwork or in hand work with Kez was out. Gradually with help from the physiotherapist I have got stronger. I have been able to lead Kez, and ground work him in the school. I still have to be careful and mindful. But I can do it. I am thankful for the wonderful support and encouragement from my dear husband Steve and Wendy. I am grateful beyond words that I can look after our horse, the daily care is something that I really enjoy and treasure. The simple things like filling haynets with the yard robin watching give me such joy.