For many years I was a horsemanship practitioner. I am now retired from teaching. My approach was showcased many times in many different national magazines. My gift to you is you can read for FREE my published articles by clicking here. I specialised in confidence building for equines and people. I am also a reiki practitioner and found there is a blurred line between horsemanship and healing. Many issues such as confidence building, banishing anxiety, fear etc benefit from being approached holistically. Here I bring to you a package to help you and your horse. You can choose 2 Horsemanship Resource packs from the list below. These packs have been used successfully by my clients alongside tuition, and have been created so you can use them alongside support from a professional of your own choice. I will hand make and reiki bless for you a Meraki Necklace and for your horse a set of Meraki Rhythm Beads. The crystals bring wonderful natural benefits, enhanced by being Reiki blessed.
The Confidence Building Package Includes:
2 Horsemanship Resource Packs of your choice. (They will be e-mailed to you to download)
A set of Meraki Rhythm Beads for your horse (To purchase alone £27.99 including postage within the UK) .
A Meraki Necklace for you (To purchase alone £25.00 including postage within the UK).
Total cost for the Confidence Building Package is only £50.00 including postage within the UK. If you live outside the UK I will ship internationally and if you Get in Touch I can give you a price for delivery.
The Resource Packs Topics Include:
Banish Anxiety Horsemanship and Beyond
Equine Communication
Intent and Energy
How to Get Started with Positive Reinforcement
Horsemanship and Relaxation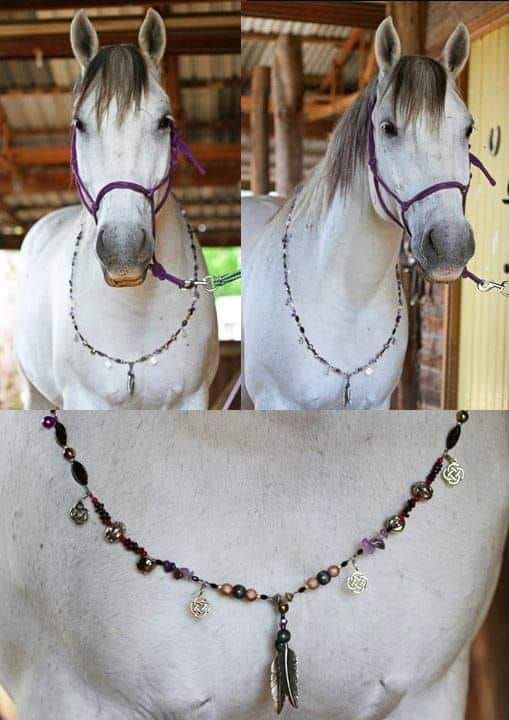 I am a Reiki practitioner and artist and all my work is done with Meraki. Meraki means my work is done spiritually with love, passion and soul. My Meraki Rhythm Beads and jewellery is made with love and semi-precious crystals and Reiki blessed. They have a natural healing, a beautiful energy with the benefits the crystals bring.
In the picture is an example of a set of Meraki Rhythm Beads made espcially for Dawn Heath's horse Chip.
Here I will share with you some information to help you understand the benefits of using rhythm beads in horsemanship and for building confidence. And how to measure your horse for a set.
Rhythm beads are designed to fit around the neck on the horse ideally on the groove down the front of shoulder where the neck meets the shoulders and chest. To measure your horse, either use a tape measure or a bit of string. Using a bit of string is best as it enables you to see where the rhythm beads will sit on your horse. Then you can measure the string. Some people like the beads to sit a bit higher other people like them to sit a bit lower.
The rhythm beads I make are designed to softly jingle as the horse moves. This soft jingle helps both horse and human to relax, and in turn focus. So very helpful for anxious, nervous horses and people.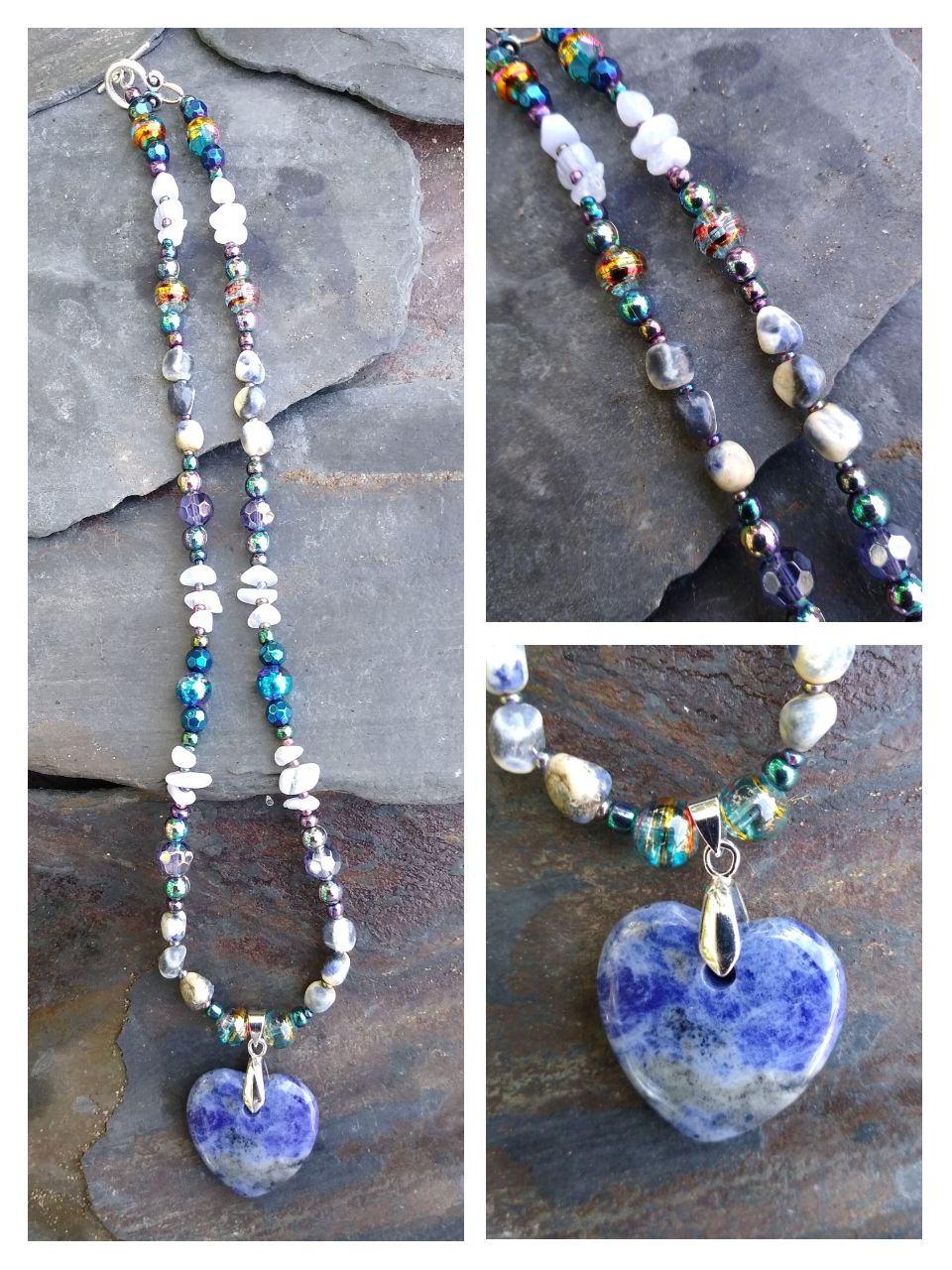 Just like a metronome marks out rhythm for a dancer or musician so they can achieve harmony a set of rhythm beads mark out rhythm so helping horse and human to become more synchronized. The rhythm beads give feedback to both horse and human on increase and decrease of rhythm so greatly help in schooling.
My rhythm beads are made with semi-precious crystals which are Reiki blessed. They have natural healing, a beautiful energy with the benefits the crystals bring. I also make Meraki Reiki Blessed Jewellery for humans. You can even have jewellery made to match the rhythm beads for your horse. In the picture is an example of a of Meraki Necklace.
The rhythm beads help give a gentle warning to wildlife of your approach when you are out and about. The wildlife will leave, so less to spook your horse. Great for building confidence when out and about.
You can use them for riding and groundwork. Each set has a clip so you clip it onto some mane so they cannot slip down the horse's neck.
They are very decorative and a great way to add some bling with benefits.
I have sets available to purchase on my website. Click here to view the Meraki Rhythm Beads and click here to view the Meraki Necklaces. I am very happy to make up bespoke sets with crystals selected to help you and your horse in colours of your choice. When I make a set of rhythm beads and necklace for building confidence I respond to the story you share with me. This is completely confidential. So you can share with me exactly what is going on for you and your horse. This you can do easily by filling in the online form below. I will reply to your message with suggestions of which crystals may help you and your horse and to find out what colours you would prefer. When I make them to order I send you photographs, so you can decide if the set are right for you and your equine. You are under no obligation to purchase, as if you are not happy with what I create you do not have to purchase it. These sets make a very personal gift for your horse or a horsey friend.
Here is some information on some of the crystals I select from for confidence building in the creation of your meraki necklace and meraki rhythm beads:
Carnelian is a warm orange almost red stone. Its orange vibration is a motivational energy so good to help with life challenges be you have 2 legs or 4. It helps with keeping motivation, to encourage taking action to help achieving future plans. Carnelian will enhance your courage in life choices. This stone is good for intuition, to help build trust in the inner voice. Carnelian can help on a spiritual journey in this life. It is a good crystal for building confidence, it supports self-worth and encourages self-belief.
Rose Quartz soft pink beads is for love. For trust and harmony in relationships. It promotes love, self-love, friendship, deep inner healing and feelings of peace and tranquillity. It is calming and reassuring. Rose Quartz dispels negativity and protects as it is a great clearing stone. This crystal is soothing and will help steady emotions.
Tigers Eye has the power to focus the mind, promoting mental clarity. Dispelling fear & anxiety, it balances yin-yang & energising the emotional body. Tiger Eye stabilises mood swings, courage & self-confidence, & releases tension. It helps with tackling nagging self-doubt and fear. It is good for harmony and enhancing creativity. This stone is good for protection and can help you tackle life's challenges and changes. It is good for personal empowerment, willpower and courage. Tigers eye acts as an amplifiers of energy and can boost the energy of any other crystals with them.
Moonstone soft cream beads to bring happiness and good fortune. It is a stone for inner growth and strength. It is a stone that good for balancing inner feelings, happiness, love, & spiritual wellbeing. It soothes emotional instability and stress, and stabilises the emotions, providing calmness. Moonstone enhances intuition, promotes inspiration and success. This stone is good when working through and recovery from a crisis, trauma or a loss.
Hematite steel dark grey beads to help stimulate the mind and enhance the memory. To aid clearer thinking, problem solving and help in finding a calm pathway forward. It is a very good gem for focus & concentration. Hematite is grounding and protective. It brings balance, stability & optimism. A stone for peace and harmony. It is also good for confidence, trust & courage.
Red Jasper is a spiritual and grounding gemstone giving a strong sense of stability. It can help to alleviate stress. A good stone to stimulate energy, strength and stamina. It can help with making sense of life's challenges. It can help in calming emotions and help bring order and assist in setting boundaries. Red Jasper is a stone of empowerment, so is a good stone to help with kick starting motivation. So great if you are tackling challenging situations or facing new opportunities. Red Jasper can help stimulate passion in one's creative work.
Sodalite brings inner peace & harmony. Balancing emotions, so good for anxiety and for calming panic attacks. Bringing mental clarity & encouraging logical rational thought. Calms the mind allowing information to be processed. It brings joy to a heavy heart. A crystal for trust & solidarity of purpose, encouraging self-esteem, self-trust & self-acceptance.
Amethyst beads, purple, protective and a stone of spirituality and contentment. It enhances creativity and passion. A stone to help with stress and anxiety. Particularly work-related stress, because the stone is also associated with abundance; therefore relieving stress while emanating prosperity. It is useful for inner peace & healing of body, mind & soul.
Garnet deep red beads for passion and self-confidence. Garnet cleanses, revitalises and re-energises. It alleviates emotional disharmony. It emotionally provides a protective & calming influence. It brings courage & hope into critical situations. It balances energy, bringing serenity or passion as appropriate. Garnet is considered a lucky stone, for love & success.
Jade is the stone of calm in the midst of storm. Jade is a symbol of serenity and purity. A protective stone, Jade keeps the wearer from harm and brings harmony. Jade attracts good luck and friendship. Stimulates ideas. A "dream stone", Jade brings insightful dreams. Jade aids the body's filtration and elimination organs. It is excellent for treating kidney problems and adrenal glands. Jade removes toxins, rebinds skeletal and cellular systems. Jade balances body fluids.
Turquoise is considered a most valued crystal as it great for energetic flow and love. This gem is good for mind-body connection. It is used for purification. It brings serenity & balance. It is another stone selected for the benefits of bonding, friendship & love. Turquoise can impart quiet strength, stillness and purification. It can inspire self-forgiveness and self-acceptance. It can help with perception and trust. It is a stone that is good for protection and good fortune. It is believed that green turquoise given to a friend will bring good fortune to the friend.
Blue Lace Agate is good for communication, it helps an individual to express their feelings, to let go of old emotions especially ones related to a negative past, repression, suppression or trauma. It can help to release anger as it relaxes the mind and calms. It is a crystal for soothing an overactive mind and calming nerves.
Aquamarine is a stone that is great for sensitive people. It helps with calmness, soothes fears, reduces stress and quietens the mind. It helps build courage. It helps support learning, to think clearly, for reasoning and clarifies perception. Useful letting go and closure on all levels.