Horsemanship & Reiki Fusion
Posted on
I am horsemanship tutor, artist, writer and Reiki healer. Reiki is a great tool enhancing the refinement of horsemanship. Horses are fine tuned to read intent and energy. (You can read for FREE my published article - Intent and Energy - that appeared in Western UK Magazine in the resources section of my website). Horse's evolution hard wired this into the language of the herd and to read this in other species. Survival was dependant on getting this right. I teach horsemanship along the principles of tapping into intent and energy before body language and touch.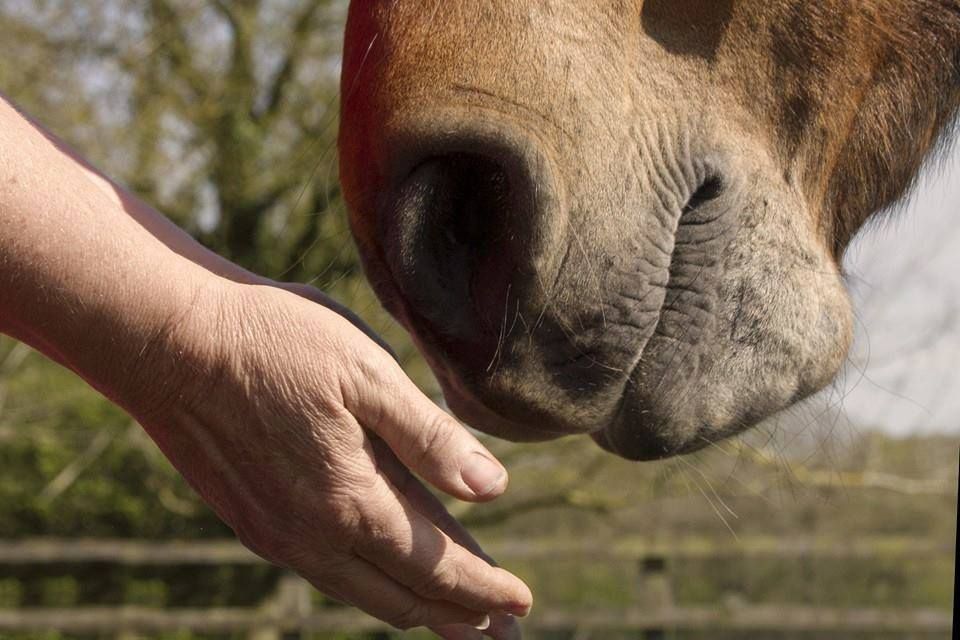 Reiki is Japanese for universal life energy. Reiki was founded by Dr Mikao Usui. Reiki is not a religion and is open to any belief system. It is natural healing using energy, gently balancing life energies and bringing health and wellbeing to the recipient. Energy is all around us, in all living things. To achieve balance and harmony energy needs to flow uninterrupted. Reiki removes energy blockages, adjusts the energy flow of the endocrine system bringing balance and harmony. It raises the vibrational frequency of the body clearing energy enabling clearer communication between horse and human. Reiki can help restore balance and harmony physically, emotionally or spiritually enabling well-being, helping horse and human to experience a shared close magical connection.
Reiki creates deep relaxation, aiding the body to release stress and tension. Triggering the body's natural healing and accelerating the body's self-healing abilities. It can help with injuries and chronic health problems. Helps relieve pain. It can assist the body with clearing toxins and reduce some of the side effects of medications. Reiki supports the immune system and increases vitality, providing additional energy required when recovering from illness. It can be used to complement and enhance health care a patient receives from other health care professionals. For behavioural issues such as nervousness or lack of confidence, Reiki helps creating relaxation, reducing stress, fear and anxiety. If your horse has emotional problems such as those due to a traumatic situation such as abuse, neglect, or a riding accident, Reiki can help release and heal those emotions. It is great for both horses and people that are struggling emotionally and spiritually. Therefore it is truly a system of attaining and promoting wholeness of Mind, Body, Spirit and Soul.
The method of receiving Reiki is enjoyable and non-intrusive. For you treatments can be given in the comfort of your own home remaining clothed and relaxed. For your horse treatments can be given where your horse feels comfortable and safe; in their herd, their field, stable, yard or a barn. It is common that when your horse receives Reiki your horse will want to share it with you. You can even share a Reiki treatment with your horse while in the saddle.
Each individual experiences Reiki differently. Benefits reported by recipients include deep relaxation promoting a calm, peaceful sense of well-being on all levels. Some sensations include heat, tingling, or experience seeing colours, whilst others can have an emotional response, indicating that shifts are taking place, allowing harmony to be restored.
Reiki in Refinement of Horsemanship
For me there is a blurred line between horsemanship and healing. As horsemanship to me is all about sharing a close magical bond. I have written many times about this topic as for me the relationship between horse and human is special. It has the potential to change lives profoundly and influence personal development.
I am passionate about helping people to learn how to apply intent and energy in their horsemanship. This is the doorway to refinement, finesse and dialogue with our equines. Once you can achieve inner calm and silence in your horsemanship you will hear your horse Telegraph In. Yes horses do communicate to us all the time. We have to step into their world of peace and calm and be receptive to listening. So many people discover through this approach a slower, calmer, softer way to be with their horse. They also comment on how theraputic it feels for them spending time with their horse.
I have been lucky enough to teach people to the point that they have beautiful harmony between them and their horse. And a few of these clients I have taken on to the next level with horsemanship fused with Reiki. Just an application of Reiki to a ridden session with no understanding will not achieve maximum benefits.
The fusion of horsemanship and Reiki enables energy blocks of both horse and rider to start clearing allowing both bodies and minds to function more effectively. Riders experience a greater feel of the energy exchange between themselves and their horse.
Communication becomes even clearer between horse and rider. Even closer bonding in their partnership has been reported. Therefore in turn a more effective lesson or schooling session is experienced.
I am called in to help solve horsemanship problems in one shape or form. Enjoyment and relaxation is often just a dream. Good horsemanship requires relaxation. The fusion of Reiki into the horsemanship enables relaxation of horse and rider to a much deeper level.
Horsemanship is about working in partnership to develop a connection that is soft. This softness should been seen on the outside and be felt on the inside. I teach people to achieve this connected softness with their horse. Blending with Reiki increases this softness.
Horsemanship is about building a strong bond between horse and rider. Some people start out at the wrong end of this spectrum, not understanding their horse, confusion, fear, stress, anxiety, and calling me in as a last resort. I tutor people in gaining the skills, knowledge and understanding to develop a connection and bond with their horse. This work is beautifully complimented by Reiki as people report it enriches the bonding and the horsemanship partnership.
Both horse and rider find the experience of the blend of horsemanship and Reiki enjoyable. Sometimes they are unaware of the subtle shifts taking place. It is only when they notice the distance they have travelled do they notice the difference. After several sessions the energy shift in both horse and human is usually noted by those around them. With comments such as, they appear more relaxed, confident, happy, etc... What has taken place is some healing within the horsemanship, within the relationship, within the self (be it the horse or the human).
An added benefit is that these changes to horse and rider continue outside of the horsemanship and Reiki fusion session.
Some Final Ponderings....How about trying to live by the Reiki principles every day:
Just for today, I will not be angry

Just for today, I will not worry

Just for today, I will be grateful

Just for today, I will do my work honestly

Just for today, I will be kind to every living thing.