The wall hangings I make are unique works of art. On this page are some examples.
Meg's tail Hair Wall Hanging
This beautiful wall hanging is made to celebrate a much loved horse's life, Meg. She is in spirit. Meg's tail hair I braided into 3 braids. Two braids looped and one straight. Some tail hair left free flowing as nature intended. The cord securing the hair is hand braided in colours to compliment the hair and the feathers chosen. A metal silver coloured angel wings charm, as Meg is in spirit. Beautiful feathers to represent her flying free in spirit. These feathers I find out walking, so naturally moulted. A metal silver heart charm connected to her tail hair with a decorative cord. The heart represents the love Meg shared with her owner. The cord represents the love bond, the ethereal cord that even death cannot break this love bond between these two souls.
Each tail hair wall hanging is unique. They are created with Meraki, made with love, passion and soul. While I create them I am drawn to what see and I feel when I look at and touch the hair. The first ones I made I made for my own horses that had passed into spirit and they hang in my home. Friends have seen them and asked me to create wall hangings for them. And so it has developed. Now I make these wall hangings on request. If you would like a wall hanging made from your horse's tail hair please get in touch.
Prices start at £25.00 for a basic simple design like Ruby's (A single braid with a few feathers). The more complex designs take longer so I charge more. Prices for more complex designs vary between £35.00 to £50.00 depending on how long they take to create. Prices do not include delivery.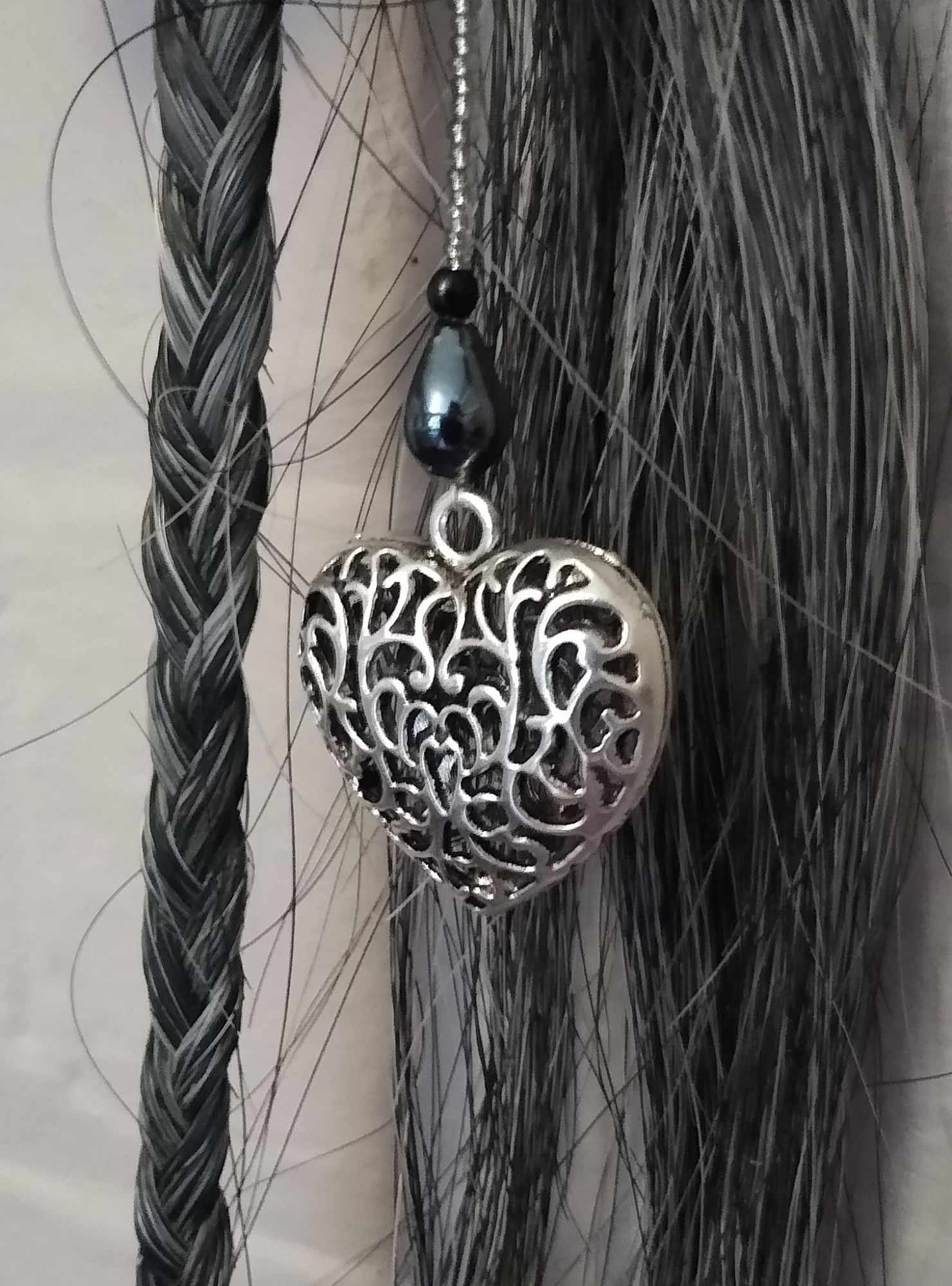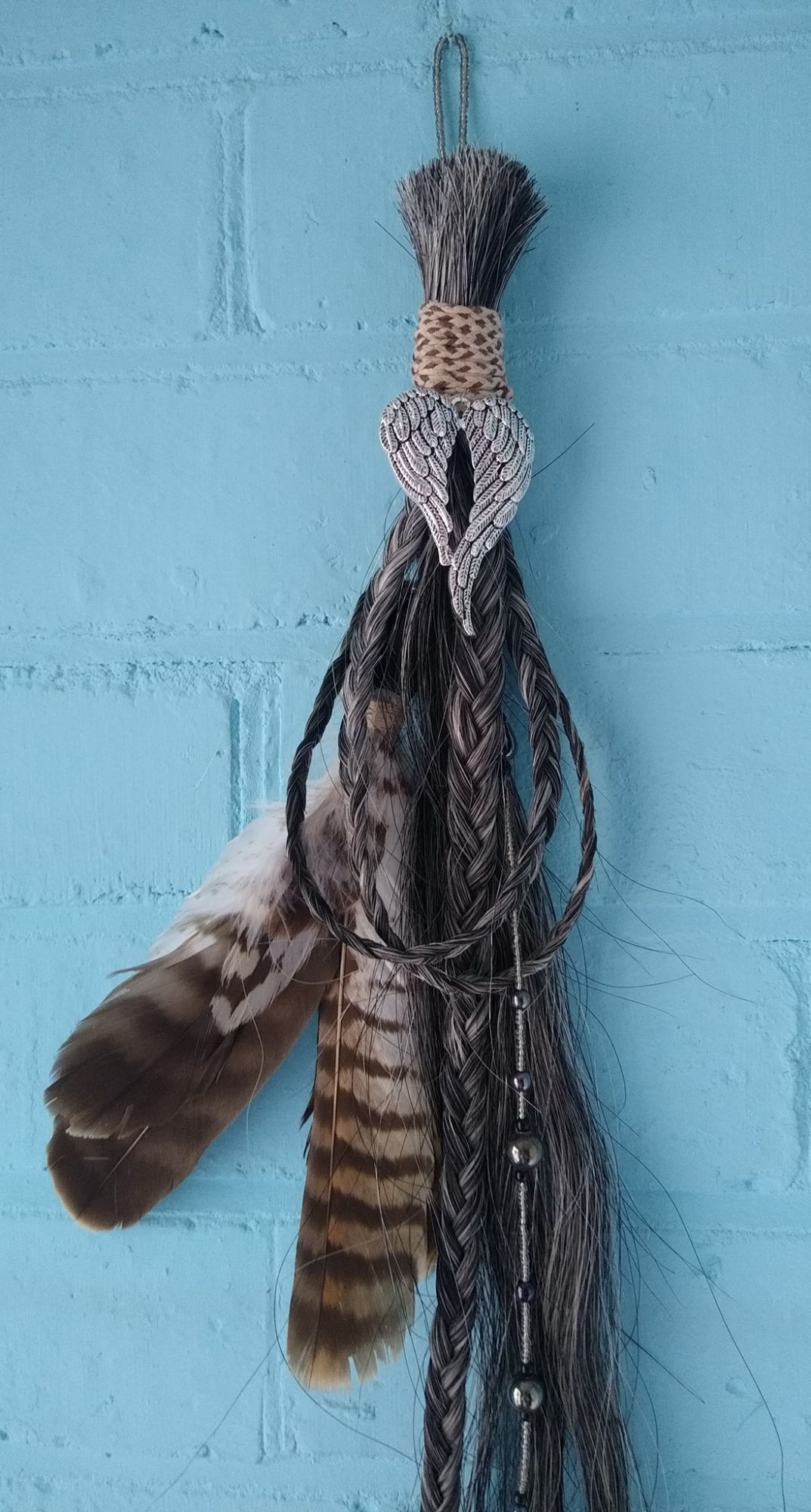 Fi's (Hefina) tail hair wall hanging
Fi's (Hefina) tail hair I braided into two braids. The two braids are interlocked together in a clover design. A silver coloured metal heart for love in the centre of the braids. Beautiful feathers sent with the tail hair have been added. The wall hanging hangs from a beaded cord.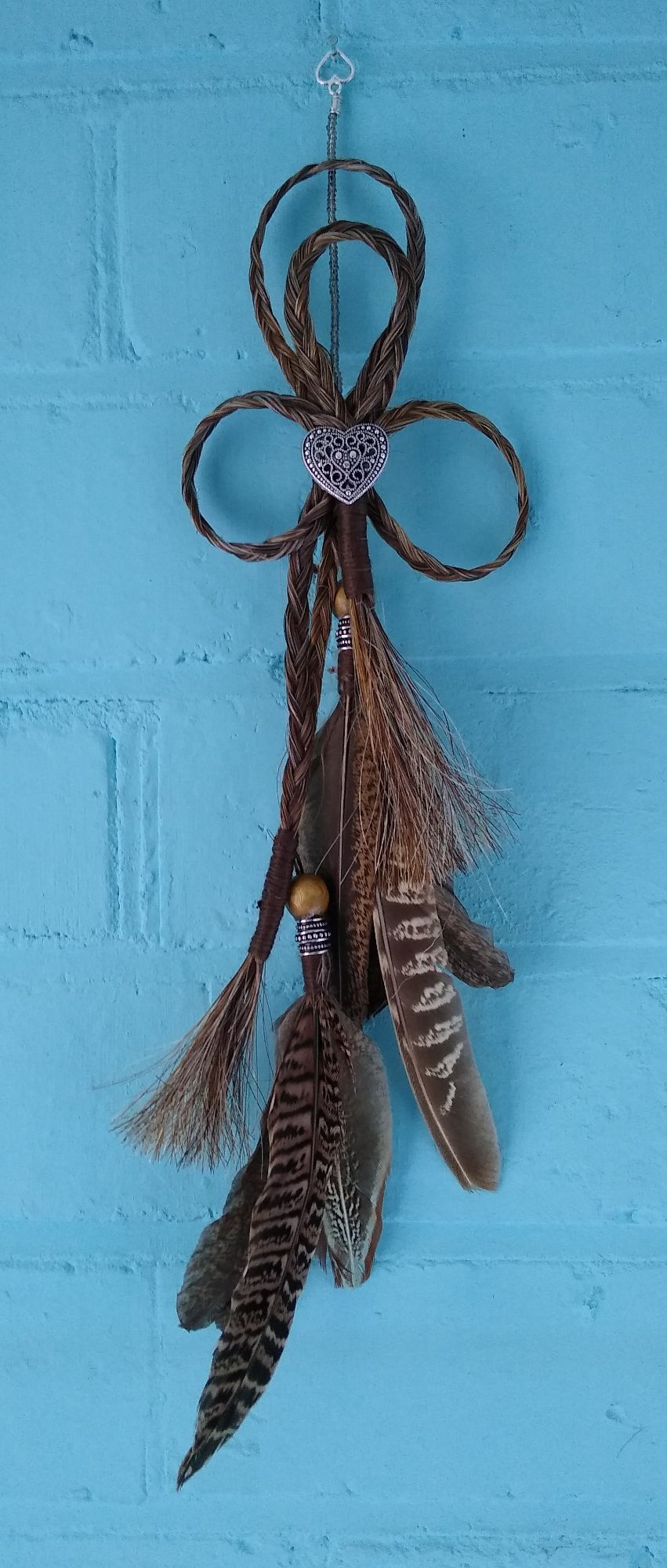 Concors Tail and Mane Hair Wall Hanging
Two long tail hair braids interlocked and joined with a silver coloured metal heart. The mane hair is made into a tassel that hangs from the heart with a handmade beaded cord with small silver coloured metal heart beads. The hair is set off with beautiful mallard feathers that are beautiful blue iridescent and brownish / grey. These feathers I found out walking and are naturally moulted. The other beads and binding cord compliment the tail hair and mane hair and the feathers.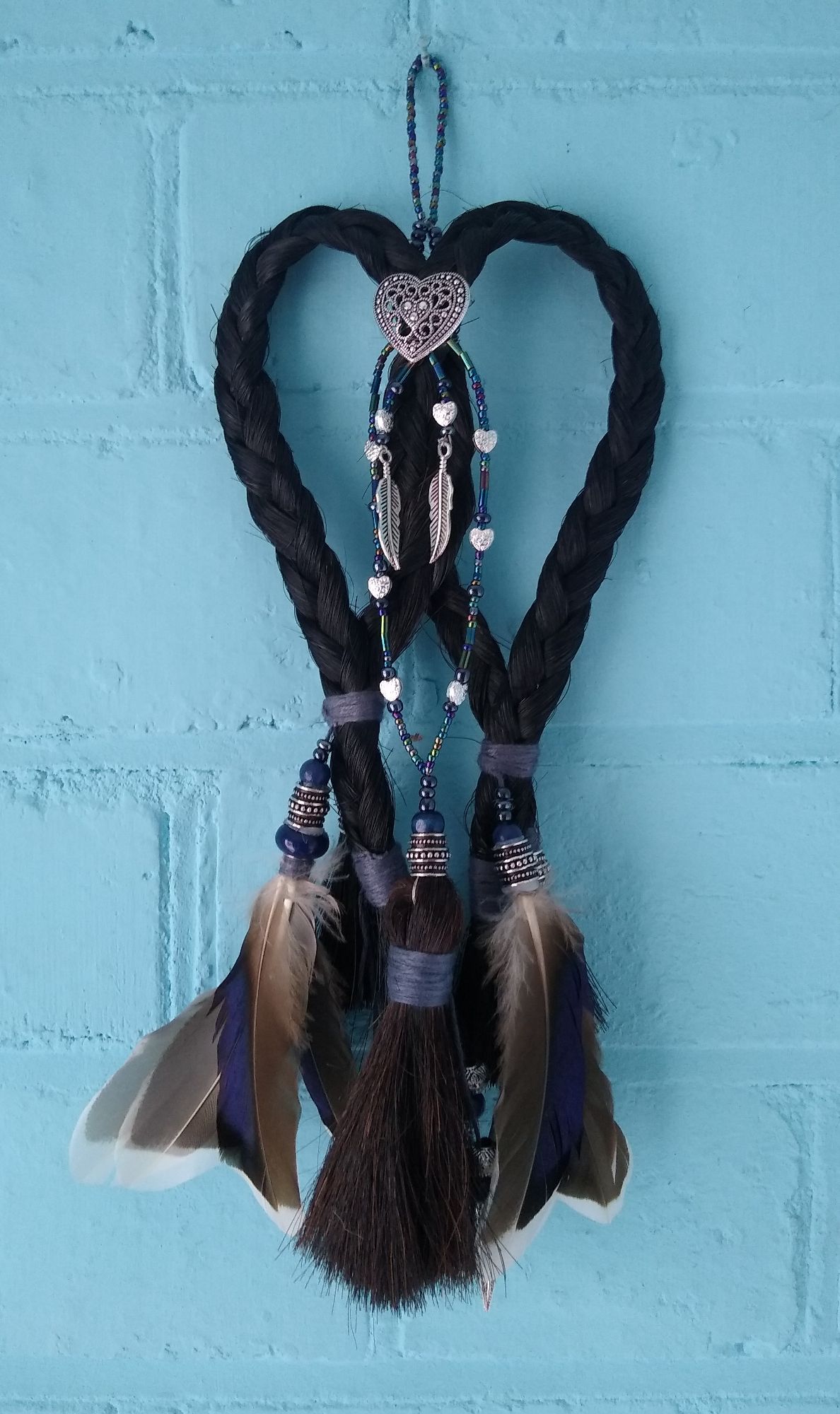 Niblet's tail hair wall hanging
With Niblet's tail hair I was inspired to make two braids. That connected together via a metal silver coloured heart charm. From the heart charm hang two small metal silver coloured feathers. The wall hanging is hung from a hand made beaded cord that attaches the heart and the braids together. This cord is a symbol of a beautiful cord that connects two souls hearts. Each braid is decoraded with silver coloured metal beads. The feathers chosen are beautiful black feathers, found while out walking, so naturally moulted.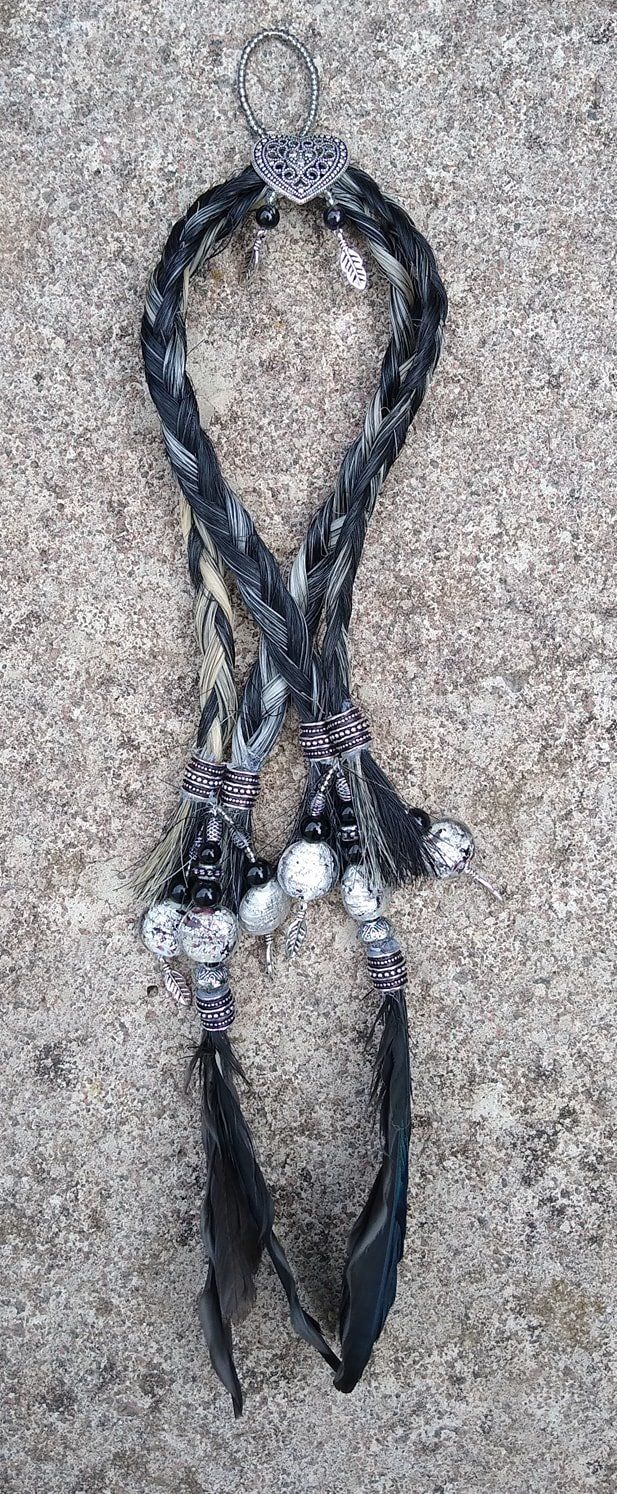 stormy's tail hair wall hanging
The feel I picked up from Stormy is he was not a braid type of guy. A free flowing soul, so his tail was to be left as is. So his human can run her hand on his tail hair. He flys high in spirit, so I was drawn to a silver metal eagle. From it's wings two silver hearts, one his and another his human's each with a silver metal feather. Also decorated with buzzard feathers I found out walking, so naturally moutled.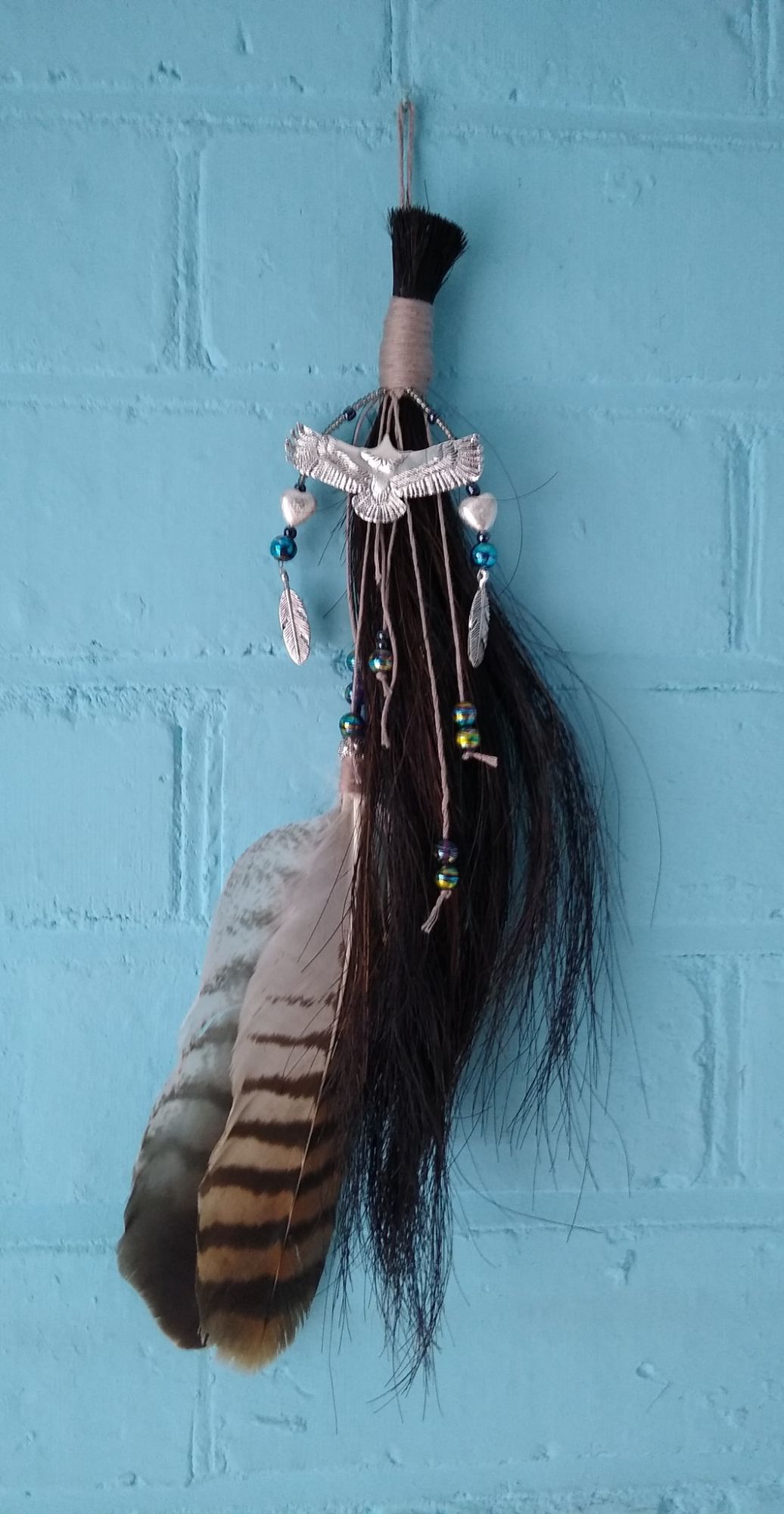 Ruby's Tail hair wall hanging
A single braid that I looped. Ruby's tail hair is decoated with an amethyst crystal and two beautiful buzzard feathers. These feathers found while out walking so are naturally moulted.
If you would like a wall hanging made please get in touch.