My rhythm beads are much more than just about rhythm.
Everything in this world has an energy vibration, a rhythm, a flow. This includes us, our equines, the land, nature and the universe. I am a Reiki practitioner, I practice with Meraki in all my work. Meraki means my work is done spiritually with love, passion and soul. My focus / intent and my energy is to offer healing; to enhance life, and enrich life. Two legs or four our minds, bodies and souls have a natural rhythm, which when balanced play an amazing beautiful rhythm. One of stability, contentment, and joy. It is the inner harmony many of us seek. And for horsemanship it is the joy of a shared dance with our equine partner. Two legs or four, the world we live in, the pressures, challenges and the environment can often knock us off our natural rhythm and desired energy state. When this happens it can bring subtle negative changes or profound unwanted challenges. With this in mind I set about creating beautiful rhythm beads with semi-precious crystals. Each crystal has its own energy vibration and benefits. Each set of rhythm beads are unique, hand crafted with love and passion and reiki blessed.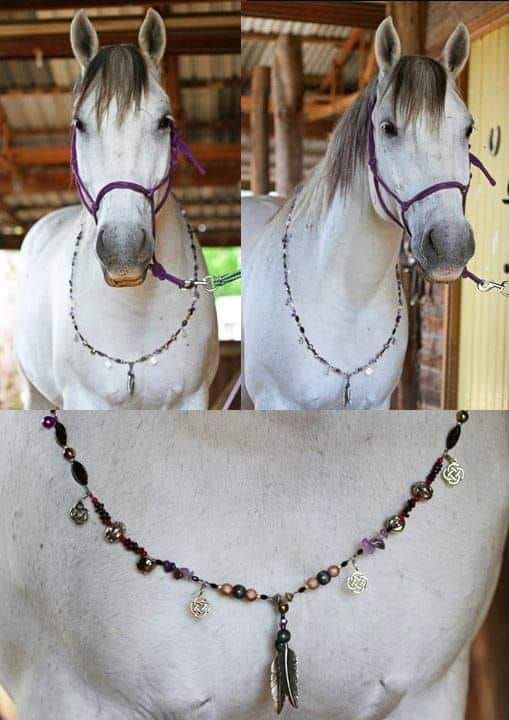 Rhythm beads are designed to fit around the neck on the horse ideally on the groove down the front of shoulder where the neck meets the shoulders and chest.
They softly jingle as the horse moves by tapping into the horse's movement. This is a useful tool in achieving harmony. Just like a metronome marks out rhythm for a dancer or musician so they can achieve harmony a set of rhythm beads mark out rhythm so helping horse and human to become more synchronized. Having a shared rhythm enables us to truly blend with our horse.
The soft jingle can help both horse and human to connect. It can encourage or inspire us, or help with relaxation and in turn focus. So helpful for nervous horses and people.
The rhythm beads help give a warning to wildlife of your approach when you are out and about. The wildlife will leave, so less to spook your horse.
The soft jingle can help a horse to tune into the jingle rather than other noises. So very useful when schooling or out and about.
You can use them for non ridden activities and for riding.
The rhythm beads give feedback to both horse and human on increase and decrease of rhythm so can greatly help in schooling.
Each set has a clip for you clip onto some mane so they cannot slip down the horse's neck if your horse was to put its head down.
Each set is unique. They are very decorative personal statement. It is a great way to add some bling with lots of benefits.

I use a wide range of different semi-precious crystals. Click here for more information.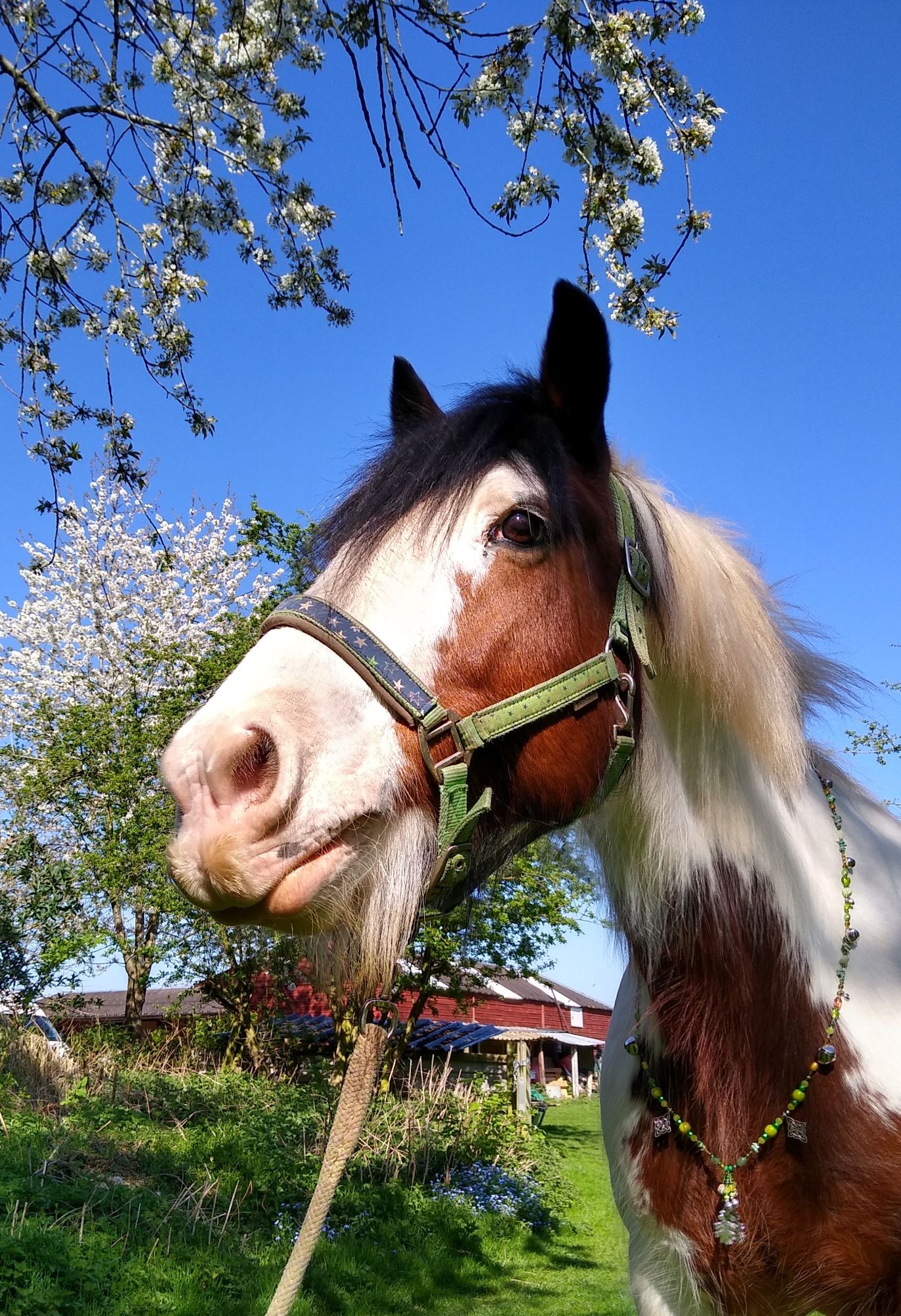 Click here to view the sets of rhythm beads available to purchase.
I make rhythm beads bespoke for customers click here for more information.

Each set is unique.

They make a special gift for a horsey friend. Or treat your horse to a set.

We are naturally drawn to colours and stones, please look at the ones listed and if you are drawn to a particular set please read what the healing benefits are....as maybe it is something your horse and or you would benefit from.
Prices:
£32.99 for a set of handmade rhythm beads fixed length.
£39.99 for a set of hand made rhythm beads adjustable length.
Pluis check out the Sale for a bargian.
Prices include postage within the UK. For postage outside the UK please get in touch as I can provide a quote for delivery. I ship worldwide.
I make two types of rhythm beads ones that are adjustable and fixed length sets. Each horse or pony is an individual so body shape, body condition, breed type can vary the size required dramatically. Therefore it is strongly advised you measure your horse or pony to ensure you purchase the correct size. Please visit the How to Measure Your Horse page for a guide on how to measure your horse.
Rhythm beads should only ever be used under supervision.
Never leave your horse unattended wearing rhythm beads.
Never allow your horse to put the rhythm beads in its mouth or chew the beads. If swallowed beads can cause serious harm.